Daily Schedule
8:30 Drop off campers at Rob Gym
8:45 Discussion of skills
9:30-11:30 Pool work and videotaping
11:30-12:00 Lunch
12:00-1:30 Activities in Gym Area
1:30-2:00 Discussion of skills
2:00-3:45 Review video and Pool work
3:45-4:00 Getting out/dressed/ ready for pickup
Weekly Schedule
Monday – Freestyle
Learn and practice the following:
Body position and streamlining off the walls
Breathing techniques, and head position
Flutter kick and the importance of the legs in freestyle
Arm stroke patterns, recovery and cadence
Starts and flip turns
Tuesday- Backstroke
Review Freestyle
Learn and practice the following:
Body position- head, hips and legs
Flutter kick
Arm stroke, recovery, pulling patterns and rhythm
Starts and flip turns
Wednesday – Breaststroke
Review freestyle and backstroke
Learn and practice the following:
Body position
Sequence of arm pull, leg kick, breathing and gliding
Starts and turn techniques and underwater work off the walls
Begin work on individual medley
Thursday – Butterfly
Review freestyle, backstroke, and breaststroke
Learn and practice the following:
Full body dolphin rhythm
Dolphin kick
Arm pull
Breathing sequence
Starts and turn techniques
Continue work on individual medley
Special guest speakers in the afternoon
Friday – Starts, Turns, and Relays – Exhibition Swims – Friday Fun Day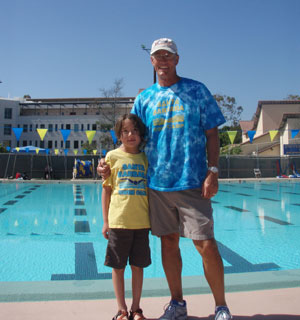 We start our Friday morning like every other day, with a review of previous days.
We also spend some time working on start technique, finishing a race, continue working on turns,  and spend a little time on relay starts and finishes.
At 10:00 each of our groups has a chance to show off a little at our Exhibition Swims. All our swimmers will do one or two laps of freestyle and one or two laps of their favorite strokes. A few of our swimmers may even opt to do an individual medley.
After the relays, we move over to the lunch area for our pizza party where pizza, watermelon, and Gatorade are all on the menu.
After our lunch break, we head back to the pool for Friday Fun Day.
The campers are allowed to swim anywhere in the pool, including use of the diving boards.
We also have games in the shallow end for those who wish, and plenty of time to practice on the starting blocks.
For those who are too tired to swim another lap, we have an age appropriate video, such as Finding Nemo or The Little Mermaid in the team room.  We're ready to go at 4:00, as always, but Friday pickup is flexible. If you are planning an out-of-town weekend and want to leave early, you can come by any time after lunch. Just let your coach know if you are planning an early pickup.