Carol and Gregg have owned Wilson Swimming, LLC along with their children for almost 20 years now.
Carol is in charge of scheduling and billing.  She will try to be as flexible as possible to accommodate your busy summer. Carol also does all the hiring and scheduling of instructors. If you have any questions about your lessons, just call Carol.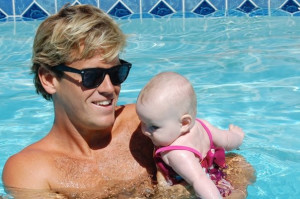 Returning this year is Paul Wilson, the technical director for Wilson Swimming. Paul has over 10 years experience teaching swimming lessons. If anyone can make a lesson fun, it's Paul!  Paul also has a special gift for working with special needs children. Paul also coaches swimming and water polo at Dos Pueblos High School, and coaches the 16U and 18U boys at Santa Barbara Aquatics Club.
Melissa Wilson, our Director of Instruction, will be back again this summer. Melissa will be mentoring all our new instructors. Even though they come to Wilson Swimming with experience in other programs, we like to be sure all our instructors know all the games and the progression of skills with which we have had so much success. Melissa is a gifted teacher and she will give even the most difficult children a magical experience. Melissa is currently a 6th grade teacher at Mountain View School in Goleta
Sarah O'Connor will be back again this summer. Sarah was a great addition to our program last year. Everyone loves her enthusiasm! She worked very well with all ages from our Wee Swim class all the way up to our Jr Lifeguards who wanted a little extra help to pass their swim test. We hope to have her here every day this summer.