Carol and Gregg have owned Wilson Swimming, LLC along with their children for almost 20 years now.
Carol is in charge of scheduling and billing.  She will try to be as flexible as possible to accommodate your busy summer. Carol also does all the hiring and scheduling of instructors. If you have any questions about your lessons, just call Carol.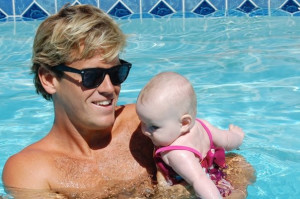 Returning this year is Paul Wilson, technical director of Wilson Swimming, LLC. Paul has 15 years experience teaching swimming lessons. If anyone can make a lesson fun it's Paul! Paul also has a gift for working with special needs children. Paul teaches Physical Education at El Montecito school and is the head coach for the 18 and under boys team at Santa Barbara Water Polo Club.
Melissa Wilson, our Director of Instruction, will be back again this summer. Melissa will be mentoring all our new instructors. Even though they come to Wilson Swimming with experience in other programs, we like to be sure all our instructors know all the games and the progression of skills with which we have had so much success. Melissa is a gifted teacher and she will give even the most difficult children a magical experience. Melissa is currently teaching 6th, 7th, and 8th grade Social Studies to students at Marymount of Santa Barbara.
We also have a number of local college students who work with us to give your children the best possible learning environment.